Jurassic World: Dominion Dominates Fandom Wikis - The Loop
Play Sound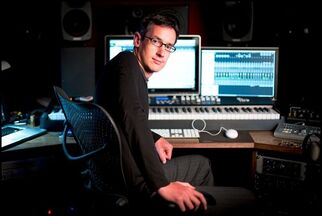 Steven Price (born 22 April 1977) is a British film composer, best known for scoring The World's End and Gravity, both from 2013. After winning the Oscar for best original score for Gravity, his career looks bright. He has already scored another film, Fury, from 2014.
Work on Gravity
[
]
"When I started out, I thought I was being booked as a music editor for a couple of weeks. That's my background, and this is such a big film I didn't think for a second I was being hired as composer,". Price did get hired, in part because "Gravity" was so different from most normal productions. The film stars Bullock and Clooney as two astronauts lost in space after their shuttle is incapacitated by runaway debris. (The only other cast members in the film provide voice work.)
"With a lot of action scores, you're competing with a lot of noise," Price said. "Say there's a big explosion: the music would conventionally have a lot of Hollywood-style percussion or brass, because that's the only thing that will cut through." But because Cuarón was only interested in allowing sounds that the astronauts would hear themselves, that wasn't necessary.
"You'd hear stuff within their spacesuits," Price said. "If they touched something, you'd hear the vibration that they'd hear, but you don't hear any exterior noises. We kind of knew the music would be responsible for all the other things. I was asked to try and tonally represent things that would ordinarily be sound. You don't hear an explosion in the film, but you might hear some pulsation in the music that reflects it. The score is doing the job of traditional sound, while the sound crew was able to do an interesting job on their own."
Composer
[
]
The World's End (2013)
Gravity (2013)
Fury (2014)
Music department
[
]
The Lord of the Rings: The Two Towers (2002) (as Steve Price)
The Lord of the Rings: The Return of the King (2003) (as Steve Price)
Around the World in 80 Days (2004)
Batman Begins (2005)
Mr. Bean's Holiday (2007)
Nanny McPhee Returns (2010)
Scott Pilgrim vs. the World (2010) (as Steve Price)
Paul (2011)
Marley (2012)
Oscar Win
[
]